Eight main points of Matteo Salvini defence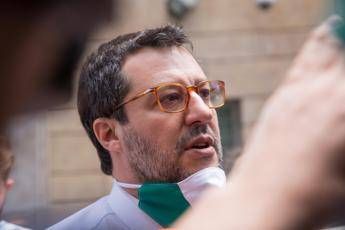 There are eight main points on which Matteo Salvini 's defense is aiming today in Palermo. First of all, it is emphasized that " Open Arms acted on its own initiative, outside the rules on rescue at sea , in an attempt to bring irregular migrants into Italy. For this reason, Italy immediately prohibited entry into own territorial.
Second
It was not for Italy to indicate a 'safe harbor' to migrants who had boarded the Open Arms ship after being recovered in Libyan and Maltese waters by a ship flying the Spanish flag ".
Third:
"In fact, Italy was neither a first contact state nor a coordinating state, having never assumed the coordination of rescue operations
Fourth and fifth point: "In any case, Italy has not shirked from always providing assistance to migrants " and moreover " the minors who arrived near Italian waters were disembarked ".
The sixth point recalls how "the commander of the Open Arms ship has always had numerous alternatives. For example, on August 1, after the first transhipment, he was less than three days sailing from Spain. Because he didn't go there right away . and did you insist on wanting to land in Italy? ", is the question posed by the former minister's defense.
Seventh: "The management of this episode of irregular immigration constituted the implementation of the government line shared by the Presidency of the Council of Ministers and by the competent Ministers, as agreed in the 'Contract for the government of change' signed by the majority forces of the time ". "This line - it is recalled - provides for the achievement of an agreement for the redistribution of migrants between the Member States of the European Union as a prelude to the subsequent disembarkation". The last aspect mentioned, the eighth point: "At the time of the facts, the commander Marco Reig Creus", points out Salvini's defense, was "already investigated for private violence and aiding and abetting illegal immigration.
Finally, the Palermo Gup changed the postponement date of the preliminary hearing for Matteo Salvini. The hearing was postponed to next January 14 for the assignment of the Spanish translator and subsequently to March 20.