Kate and William: royals living the dream of modern middle class parents?
Millions find the royal couple's ordinariness appealing ? even as a comfortable way of life slips away from their grasp.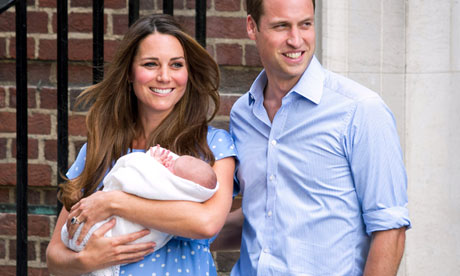 The Duke and Duchess Of Cambridge with the newborn Prince George Photograph: John Phillips/UK Press via Getty Images.
?
"What sort of country do we want?" the former Conservative MP George Walden asked in the 1990s, considering the issue of royalty: "Reproduction antique?"
Since the?arrival of George Alexander Louis and his debut in front of the world's press when his parents, William and Kate, left the Lindo Wing of St Mary's Hospital, west London, the 21st century answer is, quite possibly, retro-modern and very middle class: the House of Windsor stripped of chintz.
?
The royal family has had more scandalous sub-plots than any television soap. There's been madness, abdication, fornication ? and many of them have included a George ? but, two decades after the Queen's "annus horribilis", how skilfully the team has revived, restored and reincarnated itself, blessed by the apparent ordinariness, warmth and ease of the Duke and Duchess of Cambridge.
It's an irony ? or perhaps a lucky twist of fate for ardent royalists ? that just as the middle classes are imploding, whacked by flatlining salaries, rising prices, low interest rates, restricted employment opportunities, a weak pound against the euro cancelling out that second holiday, escalating boarding-school fees and the dawning understanding that social mobility means dropping down several rungs as well as climbing up, here is a couple who can live out their lives in a fantasy middle-class bubble.
The Cambridges come already vaccinated against financial turmoil, unemployment, pestilence and plague. Not for the next-but-one king of England the frozen wastes of stately palaces, high protocol and low heating bills, flunkies and footmen. Instead, millions can gaze on William and Kate, and think, Lotto-like, it could be us ? even as the accoutrements that signal a comfortable way of life slip more and more rapidly from their grasp.
Vicariousness should be given the royal seal of approval, so usefully and dangerously does it cement the House of Windsor into the nation's consciousness. The Cambridges, involuntarily, are members of the 1%, dressed lightly in the clothes of the middle class ? but what is British royalty if it's not made of myths? A private suite for delivery of the baby? That's ?15,000 and rising. The royal couple's "family home" will eventually be a?20-room London base refurbished at a cost to the taxpayer of over ?1m; plus Anmer Hall, the Georgian Grade II-listed house on the Sandringham estate for the occasional weekend away. And the Old Boot Inn in Bucklebury, Berkshire, the village where Kate's parents live. When the Cambridges come in for their pint and a pie, just as the locals do, a high chair is ready. "We may turn it into a little throne," says the landlord, John Haley.
It's?monarchy with mod cons. Many of those thirtysomethings, pauvre-posh, several years older than the Cambridges, gritting their teeth as they continue to rent, house share or park themselves back at home, deferring parenthood and shedding prospects, may undoubtedly be cheered that at least one (or more precisely two) of "us" is doing better than the rest.
The semiotics couldn't be stronger: behaviour that would once have been considered "common" by the House of the Windsors is now its passport to a more secure future, avoiding, as Scottish columnist Ian Bell says, "Scandinavian discretion and reduced circumstances".
No nannies for now; a separate nursery wing but possible membership of Maggie & Rose, a "soft play" club for children and parents, or Purple Dragon club and kindergarten (?4,000 a year for the first child; ?10,000 for three) is far from infra dig.
As many a broke former yummy mummy gazes on, catching her breath between various part-time jobs in knick-knack shops and cupcake bakeries, weeping as she withdraws her son from private school to send him to the local comprehensive, Kate will have the resources (but not the freedom) to indulge at whim in the colossal and still expanding baby uber-market.
Each purchase will be clocked, priced and sourced by the ever-hungry media, and paraded as yet further proof that she and he, at heart, are each really one of the people. Cashmere shawls, Bugaboo prams and a little bit of Gap is bound to trigger a mothering Klondike of a kind not seen since the 1950s, when women were first ushered back into the home after the liberation of war work. "Whoa, Mom! Can't you take it?" read one ad for Johnson's baby powder, illustrated by a giant toddler terrorising its two-inch mother.
However hard they try, and it's to their credit that they genuinely do, Kate and William live in a parallel universe, updated but parallel. Retro because it's a world in which the man is the main breadwinner, head honcho and amateur daddy (gosh ? he changes a nappy!) while the woman sees motherhood as her full-time concern. Perhaps it says something about our healthy modern society that, for many, there's no envy at all at Kate and William's plight.
?
?
Published in: ?http://www.theguardian.com/commentisfree/2013/jul/28/comment-royal-baby-kate-william ?by: Yvonne Roberts
?